Welcome to 'The Phuket Dragons'
- Dragonboat Club in Phuket
Phuket Dragons were established in 2011 under the name of Rawai-Nai Harn Dragon Boat Club by a small group of enthusiasts to become the only team on the island.
Paddling, fitness, fun and friendship
For those who have never experienced the thrill of participating in a dragonboat race or training session, you don't not know what you are missing. It is one of the few sports where there are no individual stars, it relies on pure teamwork - unless everyone works in unison the team will not win and the boat does not cut through the water as it is designed to do.
We currently have two vessels, each one designed to hold up to twenty paddlers to power the boat, one drummer/trainer to keep time and motivate plus one helm (or sweep) to steer the course.
The nature of dragonboating enables participants of all ages, fitness levels, shapes and sizes - able bodied and disabled paddlers can sit side by side and compete together, men, women and youngsters. There is no language barrier either as the commands are simple and few, once the basics have been laid out each paddler follows the rhythm of the team creating a cameraderie difficult to equal. Read more about the sport and its origins...
Dragonboat Training Schedule
Sunday, Wednesday afternoons and Friday Mornings
Sunday and Wednesday: 4.30pm - 6.00pm Laem Ka Beach see map
4.30pm
meet on Laem Ka Beach, warm up
5.00pm
Boat Launch and Training until 6.00pm
6.00pm
Cool down, store the boat - post training refreshments at The White Hart
Friday: 8.30am - 10.00am Laem Ka Beach
8.30am
meet on Laem Ka Beach, warm up
9.00am
Boat Launch and Training until 10.0am
10.00am
Cool down, store the boat - breakfast
Membership is currently FREE, paddling costs just 80 THB per session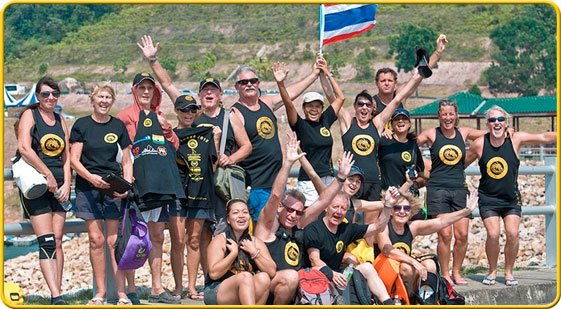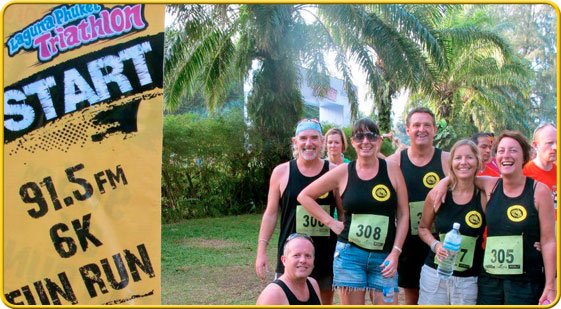 Joining us both on and off the water
Phuket Dragons are always looking to welcome new members, all we ask is for your enthusiasm. We have members from across the globe, UK, Canada, USA, Australia, Russia, Thailand, Germany, Egypt, New Zealand the list goes on! Some members participate purely for the competition, the physical excercise and the teamwork, some to get out into the fresh air on a beautiful beach on this lovely island and enjoy some gentler fitness training on the open sea. Other members choose to just enjoy the social aspects of the club. Read more about our social activities...